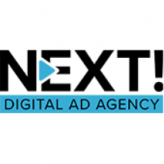 NEXT! Digital Ad Agency
Advertising
Chicago / IL / US
0 (0)
Harnessing the Power of Micro-Moments in Advertising: The NEXT! Approach
Today's consumer journey is a tapestry of micro-moments – those intent-rich instances when decisions are made and preferences s...
About
By choosing NEXT!, you're getting more than an advertising agency; you're getting a relationship-builder. We provide our clients with the high quality, attentive customer service they expect from a smaller, locally based firm, with the expertise and knowledge of a big-box marketing company. Our team believes that trust, loyalty, and listening are the building blocks of every quality relationship. We are committed to establishing a strong, long-lasting relationship with your business, so you can make the most of the ones you build with your customers.

We provide a full suite of digital marketing services including web design, Adwords campaigns, custom logo design, social media management and more.
Internet Marketing & Advertising