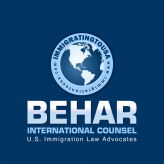 Immigration Lawyer San Diego
Law
San Diego / CA / US
5 (1)
Immersed solely in U.S. immigration and naturalization law, we are the epitome of specialization. Nestled within our prestigious team of immigration attorneys in San Diego, you'll find legal virtuosos who wholeheartedly devote their practice to the intricacies of U.S. immigration law. Whether traversing the intricate pathways of investment-based ventures, navigating the realm of employment-based cases, seeking refuge within the asylum law landscape, warding off the specter of deportation, or fostering family-based immigration journeys, our seasoned advocates exemplify a harmonious fusion of acumen, erudition, and unwavering empathy. Trust in our resolute commitment to guide you through the labyrinthine complexities of U.S. immigration law with consummate finesse.
Immigrants in the US wait up to a decade for a court date
SOME ASYLUM SEEKERS WHO CROSS THE BORDER IN MEXICO AND REQUEST ASYLUM IN THE US MAY WAIT UP TO A DECADE BEFORE EVEN GETTING A COURT HEARING DUE TO A BACKLOG CAUSED BY OVERWHELMED US IMMIGRATION SERVICES PROCESSING MANY MIGRANTS. READ MORE>>
https://posts.gle/oungnQ
#asylumseekers #asylum #asylumlaw #asylumsandiego
ПРОЦЕСС ПОЛУЧЕНИЯ ГРИНКАРТЫ В США
ДОБРО ПОЖАЛОВАТЬ НА СТРАНИЦУ ЮРИДИЧЕСКОЙ ФИРМЫ ТАТЬЯНЫ ЭДВАРДС И ДЖАКОМО БЕХАР – ВАШИХ НАДЕЖНЫХ ПАРТНЕРОВ В ПОЛУЧЕНИИ ГРИНКАРТЫ США В САН-ДИЕГО И ЛОС-АНДЖЕЛЕСЕ!
https://immigratingtousa.com/.../poluchenie-greencard.../
#greencard #GreenCardLawyer #greencardsandiego #greencardlosangeles #гринкарта #получитьгринкартусша
immigratingtousa.com
Получение гринкарты США в Сан-Диего - Behar International Counsel
Добро пожаловать на страницу юридической фирмы Татьяны Эдвардс и Джакомо Бехар - ваших надежных партнеров в получении гринкарты США в Сан-Диего!
About
Tatyana & Giacomo Behar International Counsel, PLC - Immigration Attorney San Diego is a full-service immigration law firm headquartered in San Diego, California, with an additional location in Los Angeles, CA. We concentrate solely on U.S. immigration & naturalization law.
402 W Broadway Suite 770
San Diego, CA 92101 US
Administrative & Governmental Law
Immigration law

Enrico Pat May 26 2023
Tatiana's personalized approach and genuine care for her clients truly set her apart. She took the time to understand our unique circumstances and tailored her strategies accordingly. Her guidance and support were invaluable during what can be a complex and overwhelming process.